9th – 15th October
International Baby Loss Awareness Week provides the opportunity for parents and families around New Zealand to come together and remember the lives of their babies who have died. We acknowledge the lives and deaths of all babies, no matter what their gestation, length of life or how they died.
It is also a chance to highlight the work done by Sands around New Zealand. The aims for the week are:
To promote 15th October as National Baby Loss Awareness Day
To promote the Annual Global Wave of Light and other events or services where parents can publicly acknowledge their babies.
To raise awareness and increase understanding of the impact of baby loss amongst the wider community.
To invite all Sands parents, families and friends to our Annual Remembrance Day and other events. See event details below.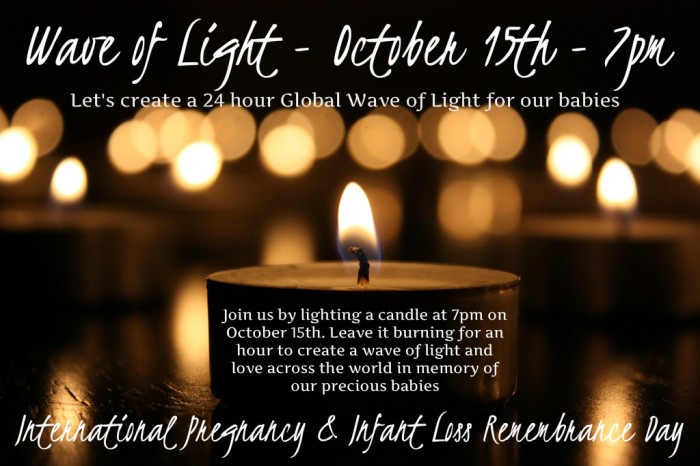 Important update regarding our Baby Loss Awareness Week events for 2021:
Kia ora koutou,

We had sincerely hoped not to have to write this message, but the long tail of COVID has determined the situation for us. As such we sadly have to inform you that our events for Baby Loss Awareness Week 2021 have been cancelled. We have delayed the decision for as long as possible but with the ongoing situation still being uncertain we now feel the time has come to make the call.
Sands Auckland has continued the important tradition of commemorating this special week with our Annual Remembrance Day and Wave of Light events for 14 years. We know you will join us in being disappointed that this is unable to occur this year. We hope you will kindly understand that with the current situation and the importance of maintaining public health restrictions that this is a sensible and appropriate measure.
This awareness week is a special week for us bereaved whānau. It is a time to honour our babies who are no longer here and make space for them, to speak their names proudly, for recognition of their existence and to raise awareness within the community of the many lives affected by baby loss. While we cannot gather publicly we can still meet the aims of Baby Loss Awareness Week within our homes and virtually. So we are pleased to inform you of some ways for you to participate in the awareness week from home:
To raise awareness Sands has developed a profile frame for use on Facebook. Please
click here
to be taken to a link on our Facebook page with the details.
Online Global Wave of Light Event
Sands New Zealand have organised an online Wave of Light service. This will be live streamed on October 15th from 6:40pm so whānau across the country can participate from home. Our hosts, Sands Waikato, will also light a candle for your baby/babies during the service if you DM Sands New Zealand on Facebook with your baby's name by October 13th. The livestream link will be posted on the Sands NZ Facebook page. Please
click here
to be taken to a link on the Sands NZ Facebook page with the details.
Hold your own Global Wave of Light event from home
International Pregnancy and Infant Loss Remembrance Day, October 15th, is recognised across the world and you are invited to join with other families and take part in the Global Wave of Light from home. This involves lighting a candle on October 15th at 7pm to burn for 1 hour in memory of all the babies who lit up our lives for such a short time. Other countries then join in at 7pm their time zone creating a 24 hour wave of light and love across the globe for our babies.
Sands NZ Bereaved Whānau Chat Page
Join the community of bereaved whānau on the Sands NZ chat page to share your love for your baby/babies, seek support or support others. This online community is a special place of support and understanding and on October 15th includes many beautiful images of candles lit for very precious babies.  Please
click here
for details and links to the chat pages.
~~~~~~~~

Please follow our
Facebook page
for further information and updates regarding Baby Loss Awareness Week and links to virtual events.
As always we wish you a safe and peaceful time over the next few weeks. Sands Auckland is still available for support, be it online or through our support phone if you'd like a chat. If you have any queries please don't hesitate to get in touch with us.

Your Sands Auckland Committee