9th – 15th October
Baby Loss Awareness Week provides the opportunity for parents and whānau around New Zealand to come together and remember the lives of their babies who have died. We acknowledge the lives and deaths of all babies, no matter what their gestation, length of life or how they died.
It is also a chance to highlight the work done by Sands around New Zealand. The aims for the week are:
To promote 15th October as International Pregnancy and Infant Loss Remembrance Day.
To promote the Annual Global Wave of Light and other events or services where parents can publicly acknowledge their babies.
To raise awareness and increase understanding of the impact of baby loss amongst the wider community.
To invite all Sands parents, whānau and friends to our Annual Remembrance Day and other events. See event details below.
Annual Remembrance Day – Sunday 16th October 2022
We are pleased to confirm that this years' event will be able to go ahead under the current Covid settings. Our venue provides sizeable indoor and outdoor space, and is suitable for social distancing.
All bereaved parents, whānau and friends are invited to attend our Annual Remembrance Day on Sunday 16th October 2022. Our family friendly event is an opportunity to meet with other bereaved parents and family members, to honour our babies, tie a ribbon on our remembrance heart,  share some treats and be together on this special day.
As a special way of remembering our babies, this year we will have tea light jars available for whānau to take home, in addition to remembrance rocks. We will also have lots of yummy treats kindly supplied by the Good Bitches Baking group.
This has become a very special day in the Sands calendar and one we would like to share with you again this year. Children welcome.
Date: Sunday 16th October 2022
Time: Open from 1:30pm
Venue: Please email RSVP for confirmed venue details and to provide attendance numbers. RSVP is requested to guide numbers for catering.
Whilst there is no charge for this event, a koha would be greatly appreciated towards additional refreshments. We will also have available to purchase our Christmas Stars, which are perfect for engraving and hanging on your Christmas tree.
If you are interested in coming along please email us to RSVP with attendance numbers:
Email: info@sandsauckland.org.nz
Please note this event will go ahead no matter the weather. Rain or shine we'll gather together and remember our babies. Our venue has plenty of indoor space and some outdoor cover, so there will be shelter.
Global Wave of Light – Saturday 15th October
International Pregnancy and Infant Loss Remembrance Day is recognised across the world and you are invited to join with other families and take part in the Global Wave of Light from home. This involves lighting a candle at 7pm to burn for 1 hour in memory of all the babies who lit up our lives for such a short time. We begin the wave of light in Aotearoa, setting off a continuous wave of light and aroha that wraps around the globe.
In previous years a service has been held by the Women's Health Chaplain in Auckland City Hospital. However, with the current hospital restrictions still in place this is not possible again this year.
We encourage everybody to join in from the comfort of your own home, and we would love to see your photos on our Facebook page with the names of your precious baby/babies.
Sands NZ Online Global Wave of Light Service
Sands NZ are again hosting an online service this year. A link to the service will be posted on the Sands NZ and Sands Auckland Facebook pages on October 15th. If you would like a candle lit in memory of your baby or babies during the service, please fill in the google form by clicking on this link: https://forms.gle/DLxe1XebyU366dLeA
Names need to be in by the 13th of October. Many thanks to Sands Taranaki, Vospers Funeral Services and Orbit Video Taranaki for hosting this event.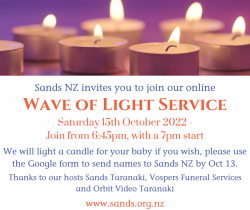 Light Up Aotearoa
Again this year, for Baby Loss Awareness Week, Sands NZ has organised for landmarks across Aotearoa to be lit up in blue, pink and purple.
We have 24 landmarks confirmed so far, and are hopeful we will be able to add more to the list in the coming weeks:
Auckland: Civic Theatre
Auckland: Aotea Centre
Auckland: Eden Park 15th October
Auckland: Holy Trinity Cathedral 15th October
Christchurch: Christchurch Airport 15th October
Christchurch: Christchurch Art Gallery 15th October
Christchurch: Botanical Gardens 9-15th October
Christchurch: Victoria Square Fountain 9-15th October
Christchurch: Scott Park 9-15th October
Christchurch: The Bridge of Rememberence 9-15th October
Dunedin: Otago Museum 9th-15th October
Dunedin: Toitu Otago Settlers Museum 9-15th October
Gisborne: Clock Tower 9th-15th October
Hastings: Clock Tower 15th October
Invercargill: Gates, Fountain and Band Rotunda 15th October
Nelson: Nelson Cathedral 9th-15th October
Oamaru: Opera House 15th October
Palmerston North: Clock Tower 15th October
Palmerston North: Regent Theatre 15th October
Taupo:
#love
Taupo sign 9th-15th October
Tauranga: Bethlehem Birthing Centre 15th October
Tauranga: Fountains on the wharf 15th October
Te Aroha: Clock Tower 15th October
Tirau: Isite Dog 15th October
Upper Hutt: Fantail Welcome Sculpture 9-15th October
Whanganui: Royal Whanganui Opera House 15th October