What's Happened to Baby?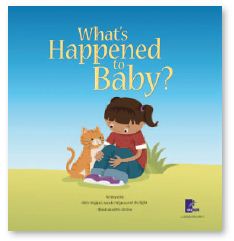 By Skylight, Sands and SIDS
This is an inviting, sensitively written and colourfully illustrated picture book for children 3–7 years old, who have had a baby die in their family/whānau.
The text has been carefully designed to fit a wide range of bereavement situations, including miscarriage, stillbirth, cot death and accidental or natural death of an infant or toddler.
It has been designed with the whole family/whānau in mind and provides a helpful opportunity for parents and caregivers to talk with a young child about this difficult loss.
It also features useful notes and information for adults at the back to assist them in supporting their bereaved child.
Ali Teo's illustrations and the text combine very effectively to reflect the multicultural nature of the New Zealand community today.
You can purchase a copy through Skylight or The Children's Bookshop in the link below:
---
A Tribute to Tabitha-Rose:
Stories of Baby & Infant Loss in NZ
edited by Vicki Culling
This beautiful book holds 24 stories of pregnancy, baby and infant loss; stories that many bereaved parents, families and whanau will identify with.
You can purchase a copy of the book through Sands Wellington-Hutt Valley at $20 per copy (plus $5 postage). Email sandswgtnhutt@gmail.com
This is a lovely gift to give someone you know who has experienced the loss of a precious baby or child.
---
Baby Gone
True New Zealand stories of infertility, miscarriage, stillbirth and infant loss
by Jenny Douché
When our babies have gone it's a heartache that no one can heal, but our shared bond is something that no one can take from us.
Inside this book are 45 true New Zealand stories about living with infertility, miscarriage, stillbirth and infant loss. The stories are written from the heart by those affected. If you, or someone you know, is missing a part of their lives, this book may give great comfort. Hold it close and dear.
Baby Gone has been created by Jenny Douché to help provide solace to those who are missing a part of their lives.
For more information and to purchase a copy of this book, go to: www.babygone.com
---
Holding on & Letting Go:
Facing an Unexpected Diagnosis in Pregnancy
compiled by Vicki Culling
This is a book about love. It contains stories from parents who have faced an unexpected diagnosis in pregnancy and have made a decision. The decision may have been to 'Hold On' and continue the pregnancy; it may have been to 'Let Go' and induce or terminate the pregnancy.
It contains contributions from health and caring professionals about making such a decision.
For more information and to purchase, go to www.holgbook.com